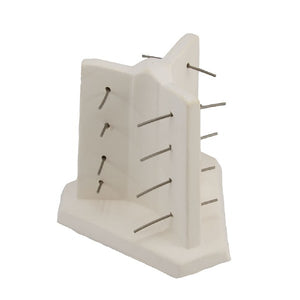 Roselli Bead Tree with 12 wires 2" 
The Roselli Bead Tree is designed to hold small beads with smaller sized holes. It is ideal for ceramicists, jewelers and glass artists. This bead tree allows you to easily glaze fire small beads, pendants, buttons, etc. - without the worry of them sticking to your kiln shelf. The entire tree gets placed in the kiln with your glazed pieces on it. 

This bead tree is made from durable cast stoneware with 12 wires. The wires are heavy gauge metal and can withstand multiple firings. 

Dimensions: 5"Hx 5"W and holds about 24 beads. This item includes 12 pieces of 2" wire. Maximum firing temperature is Cone 10 (2400 F).